Cf Compagnie fiduciaire de gestion sa in a few words…
This company has been created in 2006 and is based in Geneva.
The company also has desks in Coppet and Aubonne.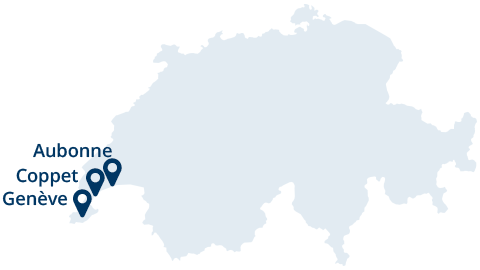 Accreditations
The company is considered in accounting, tax and fiduciary activities.
CF Compagnie fiduciaire de gestion and its management are registered with Expert Suisse and Fiduciaire Suisse.
Our clients
Our clients are legal or physical persons involved in several activities, economic areas with various sizes. Our clients are well representative of Romand economic sector.
Our team
All services delivered by CF Compagnie fiduciaire de gestion sa are always realized under the supervision of a partner.
All employees have a lot of experiences and they have developed specific competencies in their domain, in accounting, tax, wages and company's management.
Management experience add to accounting experience with an efficient secretariat allow us to offer our customers a high level of quality.
Each mandate is fully managed by a qualified employee which is your dedicated contact. Financial information is processed carefully with an external point of view in order to create a significant added value and suitable solution in the management of your mandate.

Accounting
Administrative tasks
General accounting
Account receivables accounting
Account payables accounting
Securities accounting
Financial statements establishment
Wages and social charges management
Withholding tax treatment
Our organization is based on dedicated tools in accordance with customers' needs such as the software Winbiz for accounting. This software is a standard and certified Swiss Dec. For the administrative follow up (timesheet, billing process, etc.) our company work with the software LSI-Pages DX.

Tax statement for physical person
Tax statement for legal person
Real-estate taxes
Tax and wealth planning
Advice and assistance for VAT
Tax ruling

Management advice for companies
Incorporation of company, start-up
Budget, business plans
Financial planning
Company financial consolidation, liquidations
Real-estate services
Donations, inheritance, trusts
Family office management
Business valuation
Legal address
Director mandates
Testamentary executor